I got banned from Roblox while I was playing Action! I was suggesting that we do a school horror story (shooting of a school) to my team, but I got banned for not 1, but 5 violations of terrorism/extremism. And look at the image: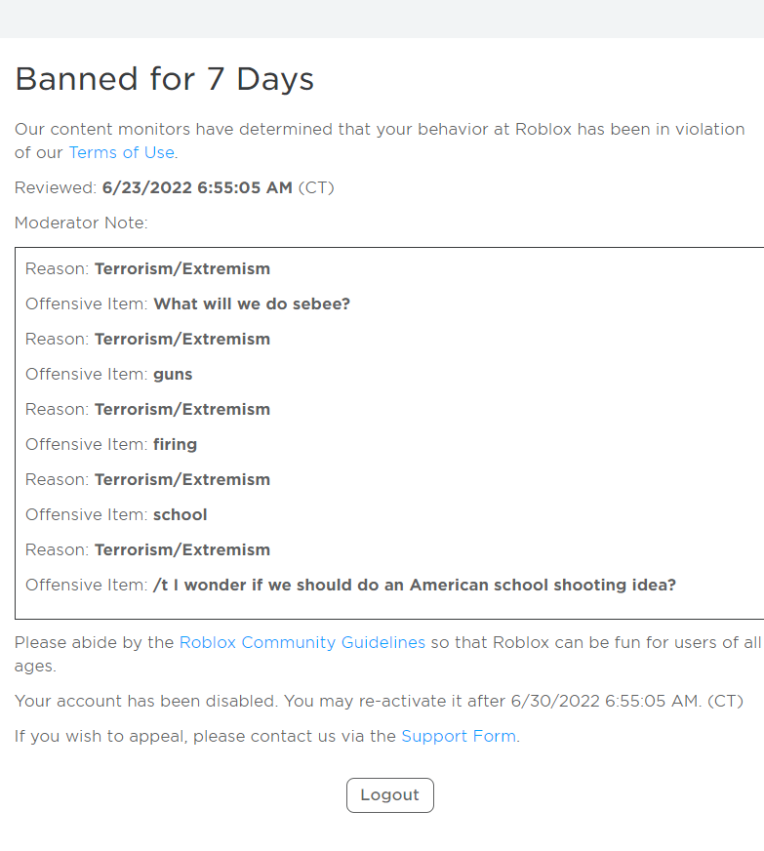 Sebee was our director at the time of the "offense."
According to the Roblox Community Standards, rules 6 and 7 say this:
Violent Content and Gore
- Although some experiences on Roblox may include weapons and violence, we don't allow content that contains extreme violence or serious physical or psychological abuse, including:
Animal abuse and torture
Realistic depictions of extreme Gore
The depiction, support, or glorification of war crimes or human rights violations, including torture
Terrorism and Violent Extremism Content
- Roblox prohibits content or behavior that supports, glorifies, or promotes any terrorist or extremist organization and their actions, including:
Depictions of or support for terrorist or extremist attacks or terrorist actors
Depictions of or support for the leaders of terrorist organizations
Depictions of the slogans, images, flags, or icons of terrorist organizations
Recruiting membership for a terrorist or violent organization, or encouraging others to leave Roblox to find such information
Fundraising for terrorist or extremist organizations, people, or groups
I decided to submit an appeal.
Edit: the severity of punishment didn't change.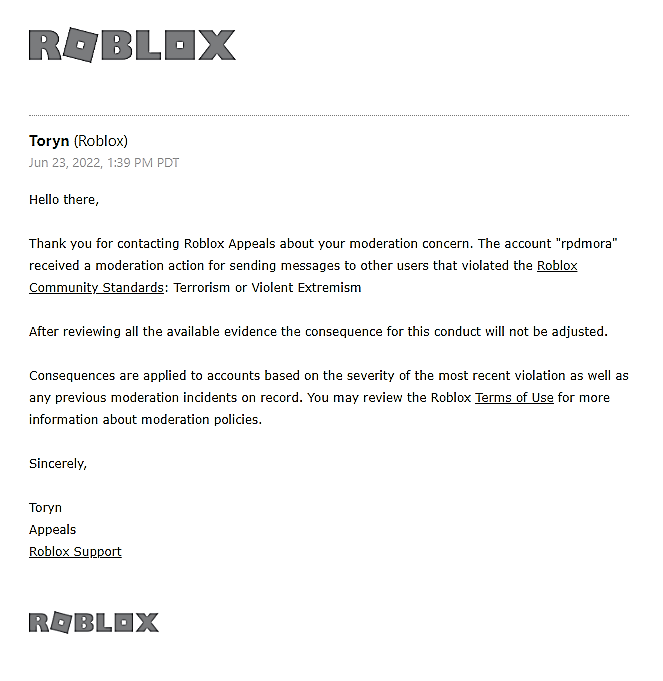 Note: I never got a moderation before.
Maybe the judgement is based on the words alone, regardless of where and how the words are used. Plus, one of my friends on discord took a look at the ban image and said "I think it's just a sensitive topic."
WHAT I WILL DO WHEN I GET UNBANNED AFTER 7 DAYS SINCE INITIATION:
I will play the game Action! and I will take some screenshots and create another news post to show you some images.